2023 NFL Draft: Which Teams Could Trade With The Arizona Cardinals?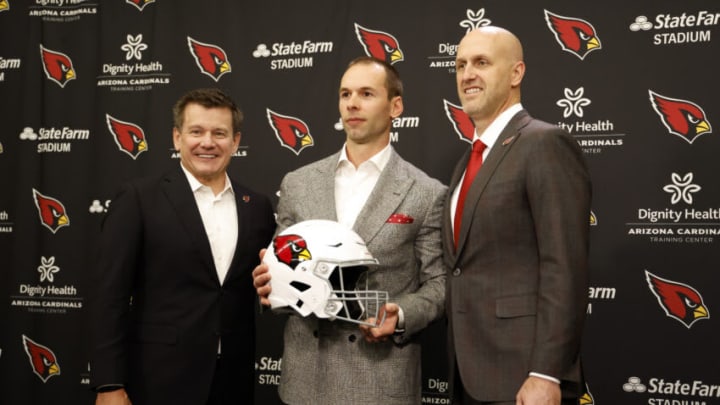 TEMPE, ARIZONA - FEBRUARY 16: (L-R) Owner Michael Bidwill, new head coach Jonathan Gannon and general manager Monti Ossenfort of the Arizona Cardinals pose for a photo during a press conference at Dignity Health Arizona Cardinals Training Center on February 16, 2023 in Tempe, Arizona. (Photo by Chris Coduto/Getty Images) /
The Arizona Cardinals are looking to trade the No. 3 Pick in the 2023 NFL Draft, and many teams have called. Which teams could potentially make the move?
With just a couple weeks to go until the 2023 NFL Draft, there's still so much we don't know. Who do the Carolina Panthers actually want to take first overall? Will Houston take things off the rails if Carolina surprises?
Then there's the number three pick in the 2023 NFL Draft, currently held by the Arizona Cardinals. As it stands, the draft starts here, assuming (as we are) that quarterbacks come off the board in some fashion at one and two. At this point in time, the Cardinals have a barren roster. The trenches look downright horrendous, and they have questions in the secondary. Even with Kyler Murray, Marquise Brown, and a bunch of tight ends that will try to carry an offense, this team isn't going anywhere anytime soon.
Who Trades Up With The Arizona Cardinals In The 2023 NFL Draft?
So, the Cardinals should be looking to trade back. As it happens, they have fielded calls from other teams. According to ESPN's Adam Schefter, there have been six teams who have made that inquiry.
A potential bidding war is exactly what the Arizona Cardinals need. While getting Will Anderson, Jalen Carter, or Tyree Wilson at three is exciting, it's more exciting to get a ton of swings over the next couple drafts to breathe life into the roster. There will still be talent to be had wherever they move, and it could start the major overhaul that they need.
So which six teams could be interested in moving up for the Cardinals' selection, and who could the Cardinals select at the position they'd move back to? Let's sift through the league and find out.
1. Indianapolis Colts
The Indianapolis Colts are an obvious team inquiring about the third pick. Indianapolis likely has a quarterback in mind, and to absolutely secure the guy, they'll need to move up one spot in order to make sure. With Chris Ballard on thin ice, it's put up or shut up in terms of getting the right franchise quarterback in place. It shouldn't take a whole lot to move up to three for Indy. They could send a third and a fourth to get it done. With a potential bidding war, it might cost a couple threes, which is worth it to land either Anthony Richardson, C.J. Stroud, or Will Levis.
This scenario gives the Arizona Cardinals whoever they wanted at three and a couple mid-round selections to beef up positions of need and just add talent to the roster.
2. Las Vegas Raiders
Okay, so this one requires a bit more nuance and hypotheticals. While the Raiders are probably one of those six teams, their interest is potentially conditional. It seems unlikely that Young gets past Houston at two, but what if the order is Richardson-Young to kick things off? Then, Vegas has the opportunity to get the best fit for them in C.J. Stroud, who can operate the quick game at a high level with accuracy and touch to all levels of the field. His quick decision making can thrive in an offense with high-level separators on it. It's possible that Richardson and Young getting to three is what they'd prefer as well, but this scenario is still possible and fits the Raiders well.
Moving back to seven in the 2023 NFL Draft gives the Cardinals an opportunity to likely select the first offensive lineman (Peter Skoronski, Paris Johnson, Broderick Jones) or get a corner in Devon Witherspoon or Christian Gonzalez. Either way, it's a top offensive or defensive prospect joining the organization.
3. Tennessee Titans
This is a move that returns the most value for the Arizona Cardinals. It's clear that the current Titans brass isn't committed to Malik Willis, and Willis was likely a Jon Robinson selection. Heck, they played Josh Dobbs over him in a win-or-go-home situation, and Dobbs was signed in December. With Ryan Tannehill on the last year of his deal, and rumored interest, this is the way for the Titans to get a quarterback and lock the Colts out of getting their guy at four. Whoever the pick is (Richardson or maybe Levis), the Titans get a guy who can sit a season behind Tannehill and take over in 2024.
This could net the Arizona Cardinals (based on the trade value chart) a pair of second-round picks or a first in 2024. The demand could be high, and if the Titans want their guy, Arizona can squeeze every bit out of the deal. If they move back to 11, there will still be offensive line help on the board (Johnson, Jones, Darnell Wright) and talented corners to be had. Let's not forget about Lukas Van Ness, Myles Murphy, or any of the edge guys as well. It's still a good spot.
4. Seattle Seahawks
An in-division trade is one that isn't likely, but the Arizona Cardinals just need to accumulate picks, no matter what. We saw the Vikings make intra-division moves in last year's draft. The Seahawks have played very buddy buddy with the quarterbacks, especially at their pro days. It could be a smokescreen, but Seattle is in a ripe position to play Geno Smith for a while and let someone sit behind him.
Again, this move gives the Cardinals the opportunity to get the top defensive player in the 2023 NFL Draft, as the quarterbacks will go one through four in this scenario. Anderson, welcome, once again, to Arizona.
5. Houston Texans
Let's get absolutely insane here. The Houston Texans could really shake things up if Young is the pick at one. If they decide to go with Anderson, then we're in for a ride. Everyone will want to move up with Arizona, and the Texans might be crazy enough to be one of those teams. It would be nuts to give up your shot at a quarterback, but with the capital to move back up, the Texans could land Anderson and Stroud/Richardson/Levis and be the team that can be nuts.
This would give the Arizona Cardinals some serious leverage, and the starting point should be both 12 and 33, giving them back-to-back early picks in round two. Throw in another day two pick or two, and we've got a deal. Back at 12, there's a chance that someone like Broderick Jones is still available, as well as Lukas Van Ness. Nolan Smith could be a wild card, along with Deonte Banks or Joey Porter Jr.
6. Detroit Lions
This might seem odd for the Lions to be on the list, especially because they've been silent on the quarterback front. While it could be a quarterback, a Lions move up might be for the best defensive player in the draft, or their best graded defensive player. Will Anderson in Detroit would be a special combo. But, since corner seems high on the list at six after the Jeff Okudah trade, this might be dropping in terms of likelihood.
If Arizona makes this move, it's not a far drop back in the 2023 NFL Draft. If they're comfortable with Jalen Carter, they could go that route. If not, Witherspoon and Gonzalez (maybe Wilson) will be available.
7. Minnesota Vikings
Let's get out of our gourd right here. The Minnesota Vikings are lacking the capital to make this move, but if they are serious about someone like Richardson and his ceiling, they let him sit behind Kirk Cousins for a season. The rushing floor and upside as a passer might be too much to handle for Kwesi Adofo-Mensah and company.
This is a best-case scenario for the Arizona Cardinals. They'll get multiple first-round picks in the deal, both in the 2023 NFL Draft and the 2024 NFL Draft. This can kickstart a full-scale rebuild and bring about confidence with where the team is headed with Murray at the helm.