Cleveland Browns 7-round 2020 NFL mock draft after big FA signings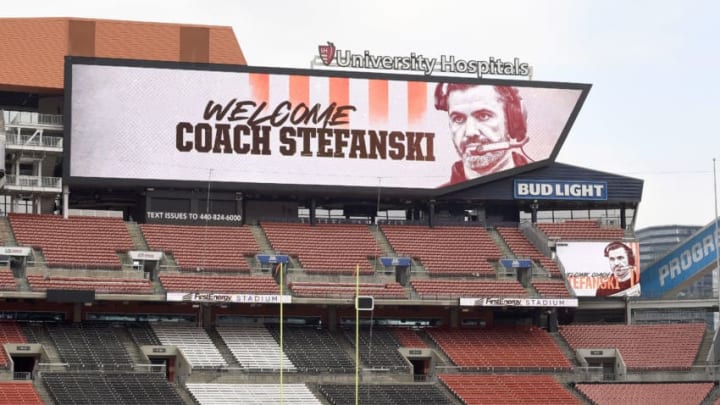 Photo by Jason Miller/Getty Images /
Photo by Silas Walker/Getty Images /
Isaiah Simmons was off of the board, so offensive tackle was the obvious choice for the Cleveland Browns with their 10th overall pick in the first round of the 2020 NFL Draft. Which one, though? That was a much tougher decision.
Tristan Wirfs and Mekhi Becton went to the New York Giants and the Miami Dolphins, respectively, ahead of the Browns pick at 10. So that left both Jedrick Wills Jr. and Andrew Thomas as options for Cleveland with their first selection.
While many evaluators have had Jedrick Wills Jr. from Alabama as their number one rated tackle prospect of the 2020 class throughout the draft process, that guy is still Andrew Thomas for me. Especially with the signing of Jack Conklin at right tackle, I believe that Thomas is the best fit for the Browns, particularly with Wirfs and Becton gone as well.
Andrew Thomas, unlike Wills and Wirfs, consistently played left tackle in college at Georgia. There will be no need to move his position and try to teach him nuances of the other side of the line. While I'm sure Wirfs and Wills are more than capable of making such a transition, Thomas may be better prepared to play and succeed at left tackle right away.
During the early portions of the draft process, Thomas was the consensus OT1. Then as time went on, people began to over-analyze his tape, digging deeper and deeper to try to find flaws in his game. To me, those are still few and far between. While some say he has some technical deficiencies in his pass protection technique, the tape shows a guy that gets the job done down after down.
Are there little things that Thomas could improve on? Of course. As is the case for any tackle prospect. Who better to help a guy like Thomas learn and improve than new Cleveland Browns offensive line coach, Bill Callahan?
Furthermore, Thomas is undoubtedly an absolute force in the run game. That is where he really excels and where evaluators really value him. He moves well on tape for such a big and physical blocker, so I am confident that he will fit in well with Stefanski's zone run scheme.
By locking in solid options at both tackle spots, the Cleveland Browns can hopefully be confident in their ability to keep Baker Mayfield upright and healthy, keep the running game with Nick Chubb and Kareem Hunt thriving and can turn their attention to other positions of need in the top half of the draft.