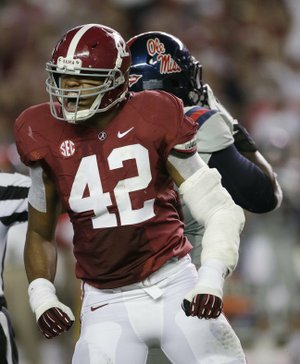 Dri Archer RB Kent State-At the end of the season Archer was projected as a mid to late rounder mostly because of his size. He also had a lot of injuries this year after a great junior campaign. This lead to questions about if he would be able to hold up at the NFL level. Then came the combine. He blazed a 4.26 40 yard dash and opened some eyes. He was an electric player his junior year and can be effective in spurts. 10-15 touches a game from carries, catches and returns is where he will be most effective. He's not an every down player and will likely get hurt at points during the season. But due to the fact that you can't teach speed some team will probably fall in love with his 40 time and draft him in the 3rd and possibly late in the 2nd round.
Daniel Sorenson S BYU- He was probably a late round pick to start the scouting season. He had good instincts but lacked great athletic ability and would be a "try hard" guy who would be a core special teamer. His combine performance shot him up draft boards. He should really good athletic ability, smoothness and great hands. He didn't run the 40 very fast but he timed great in all the change of direction drills like the short shuttle and 3 cone drill which shows his athletic ability. He could be a possible mid round starter.
AC Leonard TE Tennessee St-Prospects coming to the combine from small schools have to stand out among all the BCS schools and that's what Leonard did. He ran the fastest 40 yard dash for tight ends at 4.50 and showed off great athleticism for a man whose 6'2 and 252 lbs. He has great hands and looks the part. He's raw and will have to adjust to a major jump in competition but he can come in right away and be a weapon in the receiving game. He should go in the 5th or 6th round but has the potential to be a starter his rookie year.
Adrian Hubbard OLB Alabama-Often overshadowed by his more high profile defenders, Hubbard is a fine prospect in his own right. At 6'6 with great length he can be a terror on the edge. He can use power or a good array of moves to get to the quarterback. He is also good in coverage when asked to drop back. He's not an explosive athlete and won't beat tackles around the corner with speed but his intriguing blend of size and length with be coveted by defensive coordinators. He will probably be pushed up past his projected 4th or 5th round spot because of that.
Tags: Featuerd