 1. Kansas City Chiefs — Eric Fisher, OT, Central Michigan
The Kansas City Chiefs have selected Eric Fisher to be the cornerstone of their offensive line for years to come. Fisher is a very athletic player that they can use on the right or left side. As of this posting, Branden Albert is still a member of the Chiefs, so there is a good chance Fisher will start off his career on the right side. Head coach Andy Reid has always built his teams from the trenches on out, and this move is reflective of his style. Fisher was the #4 overall player on our big board. 2. Jacksonville Jaguars — Luke Joeckel, OT, Texas A&M
The Jaguars haven't had a big time franchise left tackle since Tony Boselli, and Joeckel was our third overall player. This is a great pickup for them to be a cornerstone of the offensive line for years to come. Joeckel is a very strong player who has played with a Heisman quarterback (Johnny Manziel) and a first round pick (Ryan Tannehill). Joeckel is one of the top players in this class who was considered to be the #1 pick until a few days ago. He will start immediately for the Jaguars.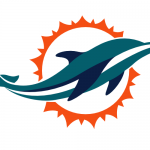 3. Miami Dolphins — Dion Jordan, DE/OLB, Oregon

This is a pretty stunning development. The Dolphins traded up from the 12th selection, for what everyone assumed would be offensive tackle Lane Johnson. They shocked everyone, but fittingly picked a player who has drawn comparisons to Jason Taylor. Jordan is arguably the best overall defensive player in this draft and fills a need opposite Cameron Wake in Miami. 4. Philadelphia Eagles — Lane Johnson, OT, Oklahoma
The Eagles get an insanely athletic offensive tackle in Lane Johnson here who has really been rising up draft boards. It's no secret this team was interested in offensive linemen after what we all saw last year, and this could be a huge move for them as far as getting back into contention for the NFC East. Johnson is a huge upgrade for them at right tackle with Jason Peters coming back from injury. 5. Detroit Lions — Ezekiel Ansah, DE, BYU
The Lions go with an athletic freak who doesn't have a lot of experience, but with Jim Schwartz and the combination of Ndamukong Suh and Nick Fairley next to him, I think Ansah could be a steal for Detroit. He has as much potential as anybody in the draft, but he's also one of the biggest question marks. This is an intriguing pick for sure, and fills a huge need for Detroit. 6. Cleveland Browns — Barkevious Mingo, DE/OLB, LSU
The Browns continue to fortify their pass rush with the addition of Mingo. They are going to be completely revamped at the OLB position with Paul Kruger and now Mingo coming in. I was thinking this would be Dee Milliner here, but the Browns obviously have a blueprint for fixing this franchise, and it involves some huge upgrades at DE/OLB. 7. Arizona Cardinals — Jonathan Cooper, OG, North Carolina
The Arizona Cardinals feel pretty good about their offensive tackle situation, so they go with the next best thing. Cooper was battling it out with Chance Warmack to be the top guard selected in this draft, and he won out. This is a huge upgrade for the Cardinals on the offensive interior. I love this pick for them. 8. St. Louis Rams — Tavon Austin, WR, West Virginia
As we expected, the Rams traded up in order to get the dynamic playmaker out of West Virginia. This could be a huge move for their chances at competing for the NFC West. Their offense needed a big push, and they might get it with the pickups of Jake Long at OT and now Tavon Austin at WR. This is a great move for St. Louis in my opinion. 9. New York Jets — Dee Milliner, CB, Alabama
The Jets picked Dee Milliner, and he will take over the spot being vacated by All-Pro Darrelle Revis. Milliner is our top ranked cornerback, and he has insane closing speed with great size and despite his health concerns, I think this is a really good pick for the Jets coming off the Revis trade. 10. Tennessee Titans — Chance Warmack, OG, Alabama
This pick has been rumored for months now. Warmack is just a great fit for the Titans and coach Mike Munchak. I love this pick for them especially with the addition of Andy Levitre formerly of the Buffalo Bills. He is a big, powerful guy who graded out as our top overall prospect in the draft. 11. San Diego Chargers — D.J. Fluker, OT, Alabama
The Chargers had no choice really but to go with Fluker here. Their offensive line is among the worst in the NFL. He will start for them at right tackle, and even though he is a bit of a reach (25th on our board), he fills their biggest need by far and I think this pick makes a lot of sense, despite the fact they passed on some better players. We had the Chargers trading up for Fluker. 12. Oakland Raiders — D.J. Hayden, CB, Houston
The Raiders strike gold here if Hayden is fully healthy. I think his closing speed is better than any corner in this draft, and he has a competitive drive that I love in a player. This is a great pick in my opinion, especially since the Raiders were able to move down and get a 2nd round pick in addition to this one. 13. New York Jets (from Bucs) — Sheldon Richardson, DT, Missouri
This is an interesting pick for the Jets. Richardson is a freakishly athletic defensive lineman, but he was considered to be a better fit for a 4-man front. Clearly the Jets are planning on using some different looks up front with Richardson in the fold along with last year's first round pick, Quinton Coples. Richardson is the first defensive tackle off the board. 14. Carolina Panthers — Star Lotulelei, DT, Utah
This is an incredible value. Lotulelei is the big body the Panthers have needed up front, and he will open up opportunities for the excellent talent they have built on the defensive front seven. This could turn out to be the best value in the first round of the draft. Lotulelei is a massive, strong defensive tackle prospect who is considered one of the safest picks this year. 15. New Orleans Saints — Kenny Vaccaro, S, Texas
The Saints had one of the worst defenses in the league last year, so this pick makes a lot of sense. Vaccaro can play all over the defensive backfield, covering tight ends, playing deep, or playing man. He could be the most versatile defensive back in the entire draft. Solid pick here. 16. Buffalo Bills — E.J. Manuel, QB, Florida State
Well this pick is a shocker. I had Manuel graded out as a mid-2nd round selection, and he winds up being the first quarterback off the board. Chalk that up to the craziness of the NFL Draft. I think the Bills had to take a QB, but I thought it would be Nassib if anyone before Geno Smith.