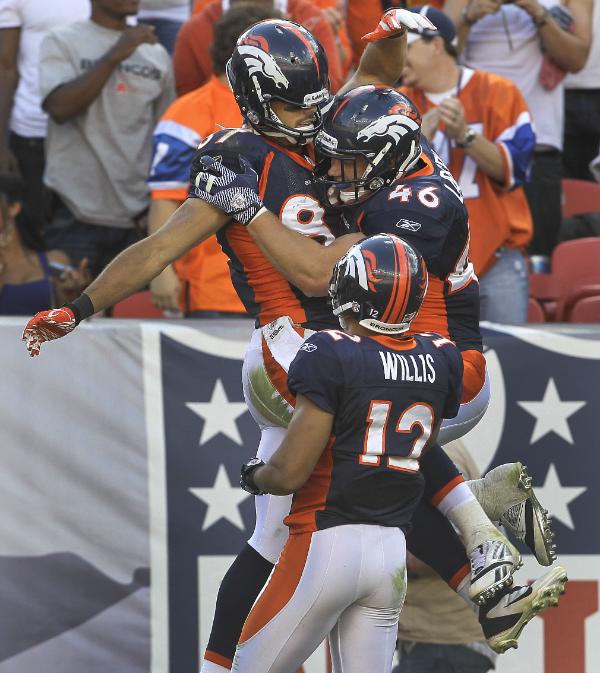 As you may have noticed, I have been out for most of the weekend. It didn't exactly sneak up on me, but I was much more limited in my ability to find Wi-Fi than I thought I would be. In fact, I wasn't even able to log on until Saturday night, and it was so late that it wasn't even worth logging on at that point.
At any rate, it's great to be back, and in case you wondered or care, I had a fantastic time in the great state of Colorado.
The Broncos game was excellent featuring a halftime dedication to Hall of Fame tight end Shannon Sharpe which was an excellent experience. The game was relatively pedestrian until the second half, when the fireworks started. In case you didn't see or hear, this game was dominated by two young wide receivers, most notably Cincinnati's A.J. Green and Denver's Eric Decker.
I said in a quick post right before I left for the game that Decker was a player to watch, and he proved me right, catching five passes for 113 yards and two touchdowns, including the score that put the Broncos ahead for good.
A.J. Green had the luxury of not having to be guarded by Champ Bailey, one of the best corners in the league, but he still took the Broncos and their defensive backs to the cleaners, catching 10 passes for 124 yards and a touchdown.
Bengals rookie quarterback Andy Dalton also played an excellent game and really impressed me for only having played one prior NFL game. Dalton was opportunistic and he didn't try to force anything. The Broncos couldn't put a ton of pressure on Dalton either, so he had time to make his throws, and he finished with a very solid outing, completing 27 of 41 passes for 332 yards and two scores.
Denver rookie Von Miller had his first NFL sack (regular season) and showed great quickness throughout the game. His sack buried the Bengals deep into their own territory, setting up a second and long where Bengals receiver Jerome Simpson got behind the secondary and Dalton hit him in stride for a huge play.
The Broncos showed a lot of improvement in stopping the run and running the ball, two areas they really struggled against the Oakland Raiders. Willis McGahee ran for over 100 yards and the defense held Cedric Benson to 59 yards on 16 carries.
This is a team that plays a very methodical style of football, and they don't like to veer too much away from their game plan. John Fox doesn't mind punting, and the Broncos aren't really a team that is going to bury teams based on the play of their offense alone. The offense is going to take what it is given, and they have to convert on a good amount of opportunities because the defense is good but not good enough to hold up in a close game for four quarters, at least not with the personnel they had Sunday.
Denver will be so much better when they get reinforcements. They were missing Knowshon Moreno, Brandon Lloyd, Demaryius Thomas, Marcus Thomas, Elvis Dumervil, D.J. Williams, and Champ Bailey on Sunday, and they still managed to win the game. That doesn't even factor in the fact that they lost Eddie Royal and Julius Thomas during the game, and placed Ty Warren on IR just a day before playing. This team is better than people think, but you have to avoid the injury bug.
Tags: A.J. Green Andy Dalton Cincinnati Bengals Denver Broncos Eric Decker Jerome Simpson Kyle Orton