It's very hard to predict what the positions of need for a team will be before the prior season has even been played, and the 2012 free agency period hasn't occured but there are things that a person can gauge to find the possible needs for a team.
One of those indicators would be the teams free agents. Another one is looking at the young talent on a team. Most teams, and the Giants especially will do this, give draft picks a chance to develop. High draft picks heading into their second and third seasons should be considered.
Here are the defensive needs for the New York Giants for the 2012 N.F.L. season, and the positions that should interest Giants when they are researching prospects during the 2011 College Football season. Tommorrow I'll take a look at the offensive positions of need.
If you're a Giants fan and you love the draft, check out the announcement that NFLmocks is now the unofficial Giants draft blog. And bookmark the page so you can come back every week.
Cornerback
The Giants just spent a first round pick on cornerback Prince Amukamara, which was considered a steal by many draftniks. However, even with the addition of Prince Amukamara the cornerback position was still only really four deep. Then Terrell Thomas was lost for the season and his recovery is in question as he will be trying to make his second comeback from an A.C.L. injury in his young football career (the other time was when he was in college at USC). On top of that, Thomas is scheduled to become an unrestricted free agent after this year. As is their second cornerback Aaron Ross. Brian Jackson and Michael Coe are also expected to be free agents, I believe Brian Williams, the veteran is only on a one year deal.
The Giants were likely to resign Terrell Thomas before his injury, and might get him back on discout after this season, though that strategy didn't work out so well when the Giants tried that with veteran WR Steve Smith.
Cornerback is ALWAYS a position of need, but right now for the 2012 N.F.L draft and season it looks like it will be one of the Giants top priorities.
First round cornerback options
Dre Kikrpatrick, Alabama. If Kirkpatrick is an option for the Giants that could be bad news. If the draft were held today he could be a top 10 pick. At 6-3 190 pounds he has the size the Giants covet at cornerback. While Perry Fewell used a lot of smaller defensive backs in Buffalo, the Giants draft big cornerbacks exclusively early in the draft (Ross, Thomas, Webster and Amukamara are all nearly 6'0 or bigger and pretty fast).
Stephon Gilmore, South Carolina
At 6'1 and 190, Gilmore also has the size the Giants are looking for. Gilmore is a plus run defener which is important in Perry Fewells read and react scheme (this is assuming Fewell doesn't have a head coaching job next year, as there has been signifcant interest in him the past couple of seasons). Gilmore is likely to be a top 15-20 pick as well if he plays at the same high level he did last season.
Alfonzo Dennard, Nebraska
Teammate of Prince Amukamara in college, Dennard is another bigger cornerback with good speed and a good run defener (something else the Giants tend to focus on). The Giants likely would have no problems going back to back with Nebraska defenders. Dennard is considered a better prospect than Prince Amukamara by some. Rob Rang (CBS draft Scout) he other day wrote that
"Want in on an NFL secret? One of the primary reasons that Prince Amukamara "slipped" to the 19th overall pick was that Dennard, not the Giants' rookie, was the Cornhuskers' top cornerback last year. To maintain this ranking, Dennard will have to prove the muscle strain suffered in mid-August won't linger into the season"
Keep an eye on Dennard. Cliff Harris's character concerns and lack of size, and Jayron Hosley's lack of size make them less viable options for me for the Giants at this point. The Giants could decide to grab a cornerback who has great speed and lacks the ideal body they look for, but until they do that high in the draft I'll stick with Jerry Reese's history.
Second/Third Round players to watch this season
Donnie Fletcher, CB, Boston College
It's not even about the Tom Coughlin/Boston College connection. It's about the fact that Fletcher is a darn good player is 6'1 200 pounds and that he can tackle and play cover two. Fewell depoys a "read and react" zone system which could be a nice fit for Fletcher. Fletcher also has pretty good speed and is an option for the Giants if he continues to play well.
Xavier Rhodes, CB, Florida State
The New York Giants LOVE gifted athletes, especially in the second to third round range and Rhodes might be the most gifted cornerback in the class. He has better than ideal size at 6'2 215 pounds and runs a sub 4.5 40 yard dash (think 4.46-4.49 is what he most likely will run). Good hands and was productive at a major college program (something else the Giants really focus on). Rhodes is an ideal player for the Giants and one they could really pursue in the second or third round in the 2012 N.F.L. Draft.
One player to watch for the third day of the draft.
Greg McCoy TCU
McCoy doesn't have the great size the Giants prefer, but he does have great speed and return and Special Teams ability. The Giants are most likely going to use Domenik Hixon in the return role this year, but they want that player to eventually be Jerrel Jernigan. They could be looking for backup at the return position as well as cornerback depth if they feel comftorable that Terrell Thomas will come back strong from injury and that Prince Amukamara's development is on track.
Strongside Linebacker (Or in Fewell's scheme the WILL)
The Giants have Mathias Kiwanuka playing strongside linebacker this year and they like what he brings to the table, but they might want to get him back on the ground as a Defensive end if they can find a more natural strongside linebacker (or in Perry Fewell's scheme it's the WILL linebacker). The Giants also really like the young linebackers they have on their team right now, but Clint Sintim is going to miss another season due to injury and hasn't been great when healthy. Greg Jones is a middle linebacker. Spencer Paysinger is a run and cover linebacker as is Jacquian Williams. Mark Herzlich could be a potential outside linebacker, but the Giants seem to envision him to be a younger version of recently departed Chase Blackburn as a guy who can back up all three positions because of his toughness, intangibles, while at the same time being a special teams demon. I'm not convinced they foresee Herzlich as a future starter. I also think they feel Herzlich's best position would be in the middle
Free agents: Jonthan Goff. Was going to be resigned by the Giants after this year (most likely) and with his injury he's stil likely to come back to the Giants.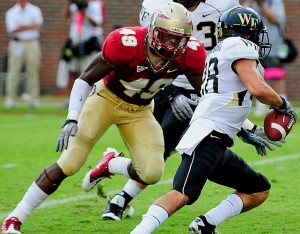 Brandon Jenkins, FSU
Jenkins is almost exclusively considered a DE or a 34 Outside linebacker, but this is the New York Giants we're talking about. The Giants love the converstion projects for their strongside linebacker. They draftd Adrian Tracy a former DE to play Strongside linebacker, they took Clint Sintim is not a natural 43 Outside linebacker (more of a 34 player), Mathias Kiwanuka was drafted as a defensive end and they moved him to strongside linebacker. They are not as concerned whether or not players can play well in space naturally, they seemed to be more concerned with whether or not they have the physical talent to learn how to do so, and Jenkins has that without question. Jenkins was a dynamic pass rusher last year a player I think will shoot up draft boards. He will interest the Giants at linebacker.
1st/2nd round
Travis Lewis, Oklahoma
Lewis was considered unanimously as a first round prospect but a broken bone in his foot could sideline him for more than half the season. Lewis is very talented if he returns to form he could be a player that greatly interests the Giants.
2nd and 3rd rounds
Nico Johnson, Alabama
The verstaile Johnson can play both the inside and outside linebacker positions. He also has the size (and more importantly) length the Giants look for in their front seven prospects (word to the wise: the Giants Absolutely require length for their front seven players. It's one of their criteria's for sure). Johnson can rush the passer which is important for Giants outside linebacker prospects and also is a force in the run game. He also won't cost the Giants a first round pick. Something they are very hesitant on doing is using a first round pick on linebackers.
Nigel Bradham, OLB, Florida State
you might see a recurring theme here. If you're a Giants fan watch Florida State play this year. There are a lot of very talented defensive players. Florida State and Alabama are loaded with defensive talent so focus on those teams if you're interested in defensive prospects.
Bradham has an excellent size/speed combination (6'3 will probably run a 4.6 40 yard dash). He also has length and sacked the quarterback five times. The Giants love guys who can get to the passer and Bradham has that kind of ability.
One to watch for Day Three
Mychal Kendricks, OLB, California
I realize I've been harping on this,but if you're interested in who might entice the Giants from the linebacker position (especially the strongside linebacker position). You have to look at three things: one production in terms of sacks and tackles for loss. It's of the utmost importance for the Giants. Two: length. The Giants have a core organizational philosophy that length helps DE and LB shed blockers and make plays. Almost exclusively in their front seven are players with excellent length. Third: a good size/speed ratio. The Giants love athletes and while pure speed isn't of huge importance, good speed for the players size IS important.
Kendricks is another player will get lots of looks at the 34 Outside linebacker position, which means he could also interest the Giants. The Giants have drafted and signed a lot of players that were considered better fits for the 34 system (Chris Canty, Clint Sintim, Adrian Tracy are just three of the best examples). Playing in space and in coverage isn't a huge focus for the Giants, especially in Perry Fewell's system because he likes to use a S/LB hybrid in passing situations anyway (he did so with the Bills and not just the Giants. Bryon Scott was used in that role a lot).
Defensive Line
This blog can't be taken seriously as a Giants draft blog if I don't consider defensive line as a possibility. Defensive line is always a possibility with the New York Giants. Who knows what will happen with Osi Umeinyora after this season. If the Giants can trade him for a second round pick they might not be able to pass that up, especially if he has another big season. Chris Canty isn't going anywhere, but if Linval Joseph doesn't show a ton of promise this year Defensive tackle could be a priority. Marvin Austin will return next year after missing two entire seasons of football. Do the Giants think that will prevent him from ever truly developing fully? Doubt it, but possibly.
First round
Donte Paige Moss, DE, North Carolina
Is currently slated as a top 10 pick by most draftniks, but if he falls a little bit (or if the Giants have the unfortune of drafting in the top 10) he could be a good player at Right Defensive End. Long, lean, explosive, productive. Moss is what the Giants look for in pass rushers.
Marcus Forston, DT, The U
Forston is an excellent athlete. And that will intrigue the Giants.
2nd and third rounds
Kheeston Randall, DE/DT Texas
A sound all around defensive linemen who impacts the game beyond the stat sheet. Randall is about 6'5 300 pounds. He's a player with a lot of hustle and is solid in run and pass defense. He might remind Giants fans of former New York Giants DT Barry Coefield as a player who is solid all around, but won't impact the game in one aspect greatly.
Brandon Thompson, DT Clemson
Thompson spent a lot of time in the backfield for the Tigers last year.
Devin Taylor, DE, South Carolina
Taylor is probably more of a late first round prospect. Right now he's a bit undersized for a 43 Defensive end, but he has excellent length (listed at 6'7) and explosiveness. Taylor was productive last year and spent much of his time in the backfield. 40 projection times have him running a sub 4.7 40, and if that happens you bet he will greatly intrigue the New York Giants.
Jake Bequette, Arkansas
Another long and lean defensive end, Bequette had 7 sacks last year for Arkansas and showed good explosion. He's large enough about 270 pounds to play defensive end for the New York Giants. He also plays at a big time program. He could also add a little weight and play DT on passing situations, which is a turn on for the Giants. Look at Bequette as a player that is on Giants radar leading up to the draft.
One for the third day
Brad Madision, DE, Missouri
Madison burst onto the scene last year playing with Aldon Smith. This year the Tigers are looking for him to replace Smith. Madison will be the starter this year, and if he can have the same kind of year he had last year, will be a realistic option for the Giants in rounds four or five in the draft ( a huge season and his stock will be outside the day three range). 6'4 265 pounds.
Tommorrow I'll have some of the offensive positions of need for the New York Giants.
Follow us on twitter @NFLmocks and like us on facebook.
Tags: 2012 Nfl Draft Alfonzo Dennard Jerry Reese Nebraska Cornhuskers New York Giants 2012 NFL Draft New York Giants Draft Blog New York Giants Needs