I have played QB at three different levels; high school, college and semi-pro, and I know what it feels like to be a quarterback. The nerves, the focus, the intensity, the leadership, the pain, the emotion, the mental demand, the glory…the look you get from the other ten guys in the huddle who are relying on you to lead them to victory. It is by far the most difficult position in all of sports, but also by far the most prestigious.
What makes evaluating the QB position so difficult at this level is the "fate factor". There are some quarterbacks that can be successful in virtually any situation, but the majority of quarterbacks need to be in the right system with the proper coaching, and necessary time to develop. Steve McNair was a great QB with outstanding raw ability, but coming out of a small college like Alcorn St., he needed time to develop. When he was drafted by the Houston Oilers in 1995 he was given 2 years to develop before he was named the full-time starter. By the time he took over, he was a Tennessee Titan and only two years away from appearing in a super bowl. The most recent example of this is Aaron Rodgers. On draft day he was slated to be a top 10 pick but as team after team passed him by, his day evolved into a nightmare. After Alex Smith was selected number 1 overall to the 49ers, the "fate factor" took its course. He freefalled all the way to pick 25 where the Green Bay Packers selected him. Hoping to have the shot to play right away as many young quarterbacks do, Rodgers had to be frustrated to know that not only was he going to have to sit the bench but also ultimately shoulder the burden of having to replace an icon. Ultimately, this was his "fate" as sitting behind Brett Favre allowed him the time to learn the intricacies of the pro game and hit the ground running with confidence once his time came. The rest is history.
Luck is defined as when skill and preparation meets opportunity. Ben Rothlisberger fell back to the Steelers with the 11th overall selection, a team that was laden with a combination of veterans, young talent, and a proven long tenured head coach who were primed to make a run at the Super Bowl. The only reason they were picking 11th was because they were lacking a franchise caliber quarterback the year before. Big Ben hit the ground running and by his second season he was a Super Bowl Champion. Other quarterbacks haven't been so "lucky". Alex Smith and David Carr are two prime examples of quarterbacks that possessed the talent to succeed, but were thrown into the wrong situation with extremely lofty expectations. Ironically, they are both fighting for a job on the same team right now, a team that is actively looking for their "next" franchise quarterback in this draft. And that leads us to the evaluation process. In a draft where there are no "Peyton Manning's" who can step into any scenerio and be successful, each of these quarterbacks' destiny will be tied directly to the situation and scheme they are drafted into.
Top Quarterbacks:
Blaine Gabbert, QB, Missouri
Out of all the quarterbacks in this draft, Gabbert has the most tools at his disposal. At 6'4″ 240lbs, Gabbert has the prototypical size of an NFL quarterback. This past season, Gabbert was an Academic All-American and a team captain which displays his intelligence, work ethic, leadership and character, all of which are vital "intangibles" that most successful quarterbacks possess. The major knock against Gabbert is that he ran a spread system in college that was primarily out of the gun and was predicated on quick screens and short passes. Many of his critics question his deep ball accuracy because they simply haven't seen a lot of deep throws on film. The same criticisms were made about Aaron Rodgers coming out of California as people questioned his ability to throw the deep ball, a trait that he is now renowned for as one of the best in the league. The other major knock is that Gabbert came out a year too soon. While I agree that he could have benefited significantly from one more season as a starter at the college level, I actually put a positive spin on him coming out early; his passion for the game of football. Gabbert is a smart kid with a bright future, and most likely would have increased his draft stock and been the second quarterback off the board next season had he spent one more year in college. His eagerness to enter the league this season shows to me that he has a passion for the game of football and the self confidence to believe that he is ready to be successful at the highest level. If Gabbert falls into the right system that brings him along at a decent pace, he will have a career very similar to Matt Ryan. I currently have him mocked to the Cardinals with the 5th overall pick which I believe will be the perfect fit for him. With an elite WR to help him, a solid defense, in a weak division, and with a coach in Ken Whisenhunt that knows how to develop a young quarterback (Rothlisberger) Gabbert will be provided with all the tools he will need to be a successful QB in this league.
Cam Newton, QB, Auburn
Cam Newton's past indiscretions are well known at this point. A number of red flags have been raised such as the accusations of theft and alleged academic cheating while at Florida, and most notably, the alleged actions of his father during his recruitment out of junior college. Despite the negatives, no one can deny Newton's ability to transform a program into an immediate winner. After transferring from Florida he led Blinn Junior College to the NJCAA Championship. From there, he joined what had been an above average Auburn team, playing in the toughest conference in college football, and led them to a National Championship. In order to be successful at the next level, he will not be able to simply rely on his natural abilities. His devotion to film study, and his overall football IQ will be make or break him at the next level. What will be his learning curve? At Auburn, Newton ran a very explosive offense, but not one that translates very well to the pro level. One thing working in his favor; he had to learn three different offenses during his college tenure and he seemed to have very little problem adjusting. Ultimately, he has one of the strongest arms in this draft and completed over 60% of his passes last season. At 6'5″ 260lbs Newton possesses elite physical attributes that enable him to buy some time as he learns the intricacies of how to play QB at the highest level. You see comparisons to JaMarcus Russell which couldn't be any further from the truth. JaMarcus was an overweight slug, while Newton is explosive and can make plays with his feet while he continues to learn how to read defenses and find open targets. I, along with most analysts have him mocked to the Panthers #1 overall. The Panthers happen to be one of the best "worst" teams you will ever see. They have a solid foundation on defense, a talented offensive line and an established rushing attack. If the Panthers can put a couple more pieces around Newton, and he can exhibit the passion and thirst for knowledge necessary to be successful in the NFL, Newton can eventually develop into a prolific NFL quarterback…if not, he will be discussed among some of the biggest busts in NFL Draft history.
Andy Dalton, QB, TCU
Many consider Andy Dalton to be one of the safest picks at QB in this draft. While he may never develop into an "elite" caliber QB, his passion for the game, winning attitude, work ethic, and overall talent will not allow him to fail. Dalton does not have the elite arm strength or size of a Newton or Mallett, athleticism of a Kaepernick, or the accuracy of a Ponder, and comes from an offensive scheme that is not contusive to the NFL style of offensive play. While he might not have a particular skill that jumps out at you, he is extremely balanced and doesn't appear to have a glaring weakness which most of the formentioned quarterbacks do. In watching Dalton closely you will see that he is extremely passionate and driven to be successful. He holds himself to a high standard and expects nothing less than perfection from himself. It is this driving force combined with his overall balance of talent that will provide him with longevity and success at the NFL level. I currently have him mocked to the Seattle Seahawks with the 25th overall pick. Again, being drafted into the right situation will be vital for his potential for success, and the Seahawks appear to be on the right track moving forward. Regardless, I believe that Dalton is tenacious enough to make the best of any situation and eventually put together a solid career.
Christian Ponder, QB, Florida St
Ponder is an intriguing option at quarterback in this draft. Ponder played in a pro-style offense throughout his college career and it appears that he will be very comfortable making the transition to the NFL game. He has shown excellent throwing accuracy and footwork, especially in his 3, 5, and 7 step drops as he spent the majority of his career under center. Ponder shows adequate throwing power, a relatively quick release, and mobility in and out of the pocket. He is confident, smart (graduated a year early from college), and has adequate size (nearly 6'3″ 230lbs). The only thing that has haunted him continuously throughout his career is his durability. After multiple surgeries to his throwing arm, one can only wonder if he will suffer the same fate as Chad Pennington toward the end of his career. What is even more scary is the fact that Pennington didn't start having these issues until his 3rd and 4th year in the league. Ponder is coming into the league with this extensive injury history. There is no question that he will have to withstand a level of punishment that he has never experienced before and it is more than fair to question whether he will be able to last. One thing you can't deny Ponder; many players would have hung up the cleats after the first or second surgery…Ponder kept picking himself up off the canvas, and appeared to get better and stronger every time. That alone, speaks volumes about his character. I have Ponder mocked early in the 2nd round to the Buffalo Bills which will provide him with an excellent QB tutor in Chan Gailey, and the time to develop behind Ryan Fitzpatrick.
Colin Kaepernick, QB, Nevada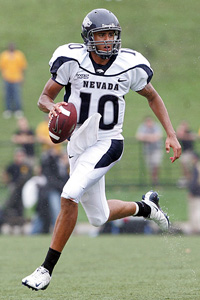 Colin Kaepernick is another quarterback that possesses all the tools, just needs the experience in a pro style system and time to develop. At 6'4″ 220 plus lbs, Kaepernick has the size, and with his 4.5 speed possesses the athleticism to be a big time quarterback. Besides running predominantly out of the pistol offense in college, the only other knock I see against him is that he has a very similar throwing motion to Vince Young. Like Vince Young, he is tall enough to still get the ball over the line of scrimmage despite his low level side arm sling delivery, and unlike Young, he actually alters his throwing motion to a more traditional style on his deep throws which he happens to be extremely accurate and efficient with. Kaepernick's coaches and trainers speak very highly of his work ethic and I believe that if given time, he will be very successful. I have Kaepernick going to the Titans in the 2nd round. While Kerry Collins can hold down the fort for a little while, there might be pressure for him to start before he is ready. Regardless, I believe Kaepernick has the tools to learn on the fly, and should evolve into a solid quarterback.
Jake Locker, QB, Washington
For Locker, I have quoted from my post entitled "Boom or Bust". "While I sincerely hope that Locker does well because he is a high character kid with immense raw talent, I just don't think he was dealt the right hand throughout his career in order to develop into a great quarterback. As a high school player, Locker played in a Wing-T offensive scheme which is an old fashioned style of offense that is typically 90% run and involves misdirection, fullback dives, and toss sweeps with the occasional waggle pass or bootleg sprinkled in. From there, Locker was recruited to play at Washington which was a program that had hit rock bottom and lacked the overall talent in their recieving core and offensive line to provide Locker with the tools to succeed. By the time Steve Sarkisian had taken over, who happens to be one of the best QB tutors in college football, Locker took well in his Junior year, but once teams figured him out, he struggled mightily. If drafted into the right system where he will be given time to sit behind a veteran and develop much like Aaron Rodgers did, Locker could eventually harness his immense raw ability and become a solid NFL QB…but chances are, he will be drafted by a team looking for immediate help at QB, rush his development and he will fizzle out of the league. His best case scenerio would be for him to be drafted by a team like the Patriots where he can develop for 3 or 4 seasons without tremendous expectation and then emerge as "The Guy" with a talented core built around him. And one more thing…I have heard the comparison's to Brett Favre. Not that far off (nowhere near the same arm strength though) except for one major factor that people neglect to recognize when they draw this comparison…Favre had THE BEST QB TUTORS in the NFL. When the Falcons traded him for a bag of footballs, it was Mike Holmgren, Andy Reid and Jon Gruden who developed Favre into the QB he would one day become. That is the kind of tuteledge I hope the NFL can provide Locker, but seems very unlikely." I sincerely hope he proves me wrong. Locker is the kind of kid you would want to marry your daughter. He is the kind of kid you root for, that you want to succeed because he will be a role model. I have him mocked to the Redskins, where coach Mike Shannahan is well equipped to provide him with the tuteledge necessary to be successful. Hopefully there will be enough patience for his talents to translate to success on the field.
Ryan Mallett, QB, Arkansas
Mallett is the biggest enigma in this draft. At nearly 6'7″ 240lbs, Mallett is a physical specimen. He has an absolute cannon for an arm, and immediately demands the respect of defensive secondaries as he can stretch the field to the extreme. Overall, he is accurate, and performed extremely well despite having to face some of the best defenses in college football week in and week out. The knocks against his mobility are accurate, but as we have seen with Joe Flacco, who Mallett is very comparable to, this can be overcome if he can be drafted by a team that can provide him time and protection in the pocket. Despite his lack of mobility, he does a good job of keeping his balance on his throws and shows poise and toughness. The only question becomes his character. This is the enigma. While there has been swirling rumors about alleged drug use and character issues, nothing concrete has been revealed by any credible source. You can only hope that if these allegations are true, Mallett can overcome, mature, step up and be the quarterback he is more than capable of being. If not, he will be yet another wasted talent that will disappear into the abyss of failed quarterbacks. I currently have the Dolphins trading back to draft him late in the first round.
Tyrod Taylor, QB, Virginia Tech
Last but not least we have Tyrod Taylor. Out of this entire quarterback class, Taylor could be the biggest sleeper of them all. Not only is he the fastest QB in this draft, he is one of the fastest QB's in the past decade. The biggest knock against Taylor is his accuracy, but he has shown more accuracy than Jake Locker who is projected to go in the first round, and has been much more consistant throughout his playing career. Last season Taylor matured into a bonified quarterback as he exhuded more patience in the pocket, and posted a 25 TD: 5 INT ratio that could compete with the best in college football. There is no doubt that he has to refine his quarterbacking skills to be successful at the next level, but he has shown the willingness and effort get better, even working with Michael Vick in the off-season who fits his style of play perfectly (Tyrod actually surpassed all his passing records at Virginia Tech). If Tyrod can refine his passing skills and continue to develop his knowledge of the game, combined with his game changing athleticism he could emerge as a major sleeper late in the draft. I have him mocked to the Minnesota Vikings early in the 5th round where he will be able to possibly learn behind a veteran such as Donovan McNabb and evolve into a solid threat at QB without the immense pressure that a player like Jake Locker will have to endure.