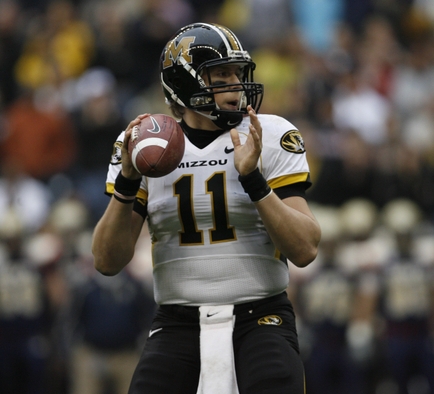 According to a report from Shawn Zobel at Draft Headquarters, the Broncos are discussing a potential trade down with both the Arizona Cardinals and Washington Redskins, apparently regarding Blaine Gabbert. This report has not been confirmed by multiple sources yet, so take it right now with a grain of salt, but Zobel did predict back in January that Cam Newton was on top of Carolina's board when that seemed like a pipe dream, and now, 16 days before the draft, it seems as though that is likely if not probable.
Reports out of the Denver Post this morning indicated that the Broncos' ideal situation would be to trade down, and all of the fans are of that belief as well. It will all come down to what the teams offer. The Broncos would likely accept a "fair" deal in any scenario since they need the picks. It's hard to figure what either team would offer. Arizona likely would give up their second round pick to get the deal done, and possibly a mid-round pick which the Broncos also desire. The Redskins are much further down at 10th overall, and I suggested they could offer a 2012 first round pick along with a 3rd and 4th. Mike Shanahan once offered a "king's ransom" type of deal to the Detroit Lions when he was in Denver so he could draft Calvin Johnson.
He got Jarvis Moss instead.
Clearly this is something Broncos fans and the Broncos themselves have been thinking about, but will a deal be made? Time will tell, but for now, this is at worst an intriguing report that we will keep a close eye on.
Loading ...
Tags: 2011 Nfl Draft Rumors Broncos Trading Down Cardinals Trading Up Redskins Trading Up