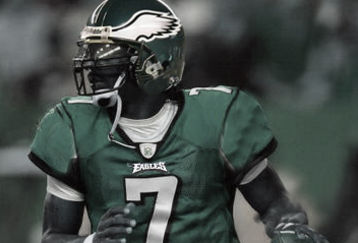 Former Atlanta Falcons and current Philadelphia Eagles quarterback Michael Vick was once considered one of the NFL's most explosive athletes. He spent 23 months in prison and his return to the NFL garnered much attention to the league.
Vick's stint with the Philadelphia Eagles was unimpressive — 86 yards passing , 95 yards rushing and three total touchdowns in '09. Now that the season has come to an end, many are speculating what Vick's future holds. It is possible that he could return to Philadelphia, but the Eagles have options.
Rumors have pointed to the St. Louis Rams as one team highly interested in Michael Vick's services. The team could use depth at the position. Current starter Marc Bulger is often injured and his skill-set is on the decline.
The Buffalo Bills are another team that jumped into the news as serious contenders for Vick. Sources have informed ESPN's Len Pasquarelli that the Buffalo is seriously considering Vick as their potential starting quarterback in 2010.
According to the report:
New coach Chan Gailey likes mobile quarterbacks, and the Bills can't enter 2010 with Trent Edwards as their starter. The Bills would likely only have to give up a conditional sixth- or seventh-round pick to land Vick.
Acquiring Vick would likely put the Bills out of the running for one of the top quarterbacks in this draft class and allow them to focus on finding a replacement along the offensive line for left tackle Jason Peters.